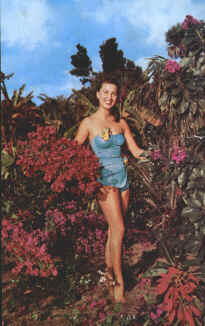 Links to South Florida Gardens


Originally Africa U.S.A. was only going to be a botanical garden. The Pedersen family raised over 55,000 plants to create a 40 acre tropical garden. Admission to the gardens was free! The only admission charged was the $2.00 fare for the Jungle Train tour and boat ride.
Some of the plants included banyan, coffee, vanilla orchids, tapioca, kapok trees, camphor, sugarcane, ginger, pineapple, and many different species of palm. Read below from some of the original folders about the Tropical Gardens at Africa U.S.A.

Africa U.S.A. Is Florida's Most Fabulous Tourist Attraction, and the only place of its kind in the the United States. The visitors are taken directly into the African animal kingdom where they view roaming herds of animals face to face. Conducted tours of the jungle areas are made on miniature trains over four miles of winding trails in and out of the jungle, through many herds of African animals. The trains also take you through the Tropical Gardens area of Africa U.S.A., where you can view acres and acres of blooming plants from all tropical and sub-tropical sections of the world; over 55,000 rare and exotic plants and miles of winding streams where electric boats take you on a tour of the flower bedecked canals and lakes.
See the famous "Watusi" geyser erupt with a terrific rumbling noise every 32 minutes, exploding over 160 feet into the sky. This is Florida's only geyser.
Also at Africa U.S.A. is "Zambezi" Falls, Florida's largest scenic waterfall, spilling over 6,000,000 gallons of crystal clear water, daily, into its flower-bedecked gorge.
At "Jungle Town", Africa U.S.A. you can see the famous Phil Carrol training his gorillas, chimpanzees and monkeys. He is undoubtedly the world's greatest trainer of these animals.
Remember, Africa U.S.A. is a "must see" tourist attraction while you are in Florida. DON'T MISS IT!!



Please sign our
GUESTBOOK




Africa U.S.A. Gardens Today
The Africa U.S.A. property is today the Camino Gardens development. The front entrance of the development is much the same as it was at Africa U.S.A. with the geyser base still visible.


Geyser Base - 2001

This is all that remains of the waterfall - the base of cement is clearly visible.

Waterfall Base - 2001