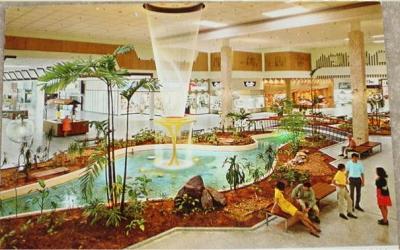 The Palm Beach Mall opened October 27, 1967 as the largest mall in the Southeast United States. It is still in operation, although the only remaining original store is JC Penney.
The mall was built by the Edward J. DeBartolo Corporation. DeBartolo was able to take advantage of the dramatic changes occurring across the United States after World War II. As more and more Americans moved into suburbs, there was a corresponding increase in demand for convenient access to stores. DeBartolo's company was one of the first companies in Ohio, as well as across the United States, to build shopping centers in suburban communities.
At first, these shopping centers were built in long strips, but soon DeBartolo began developing enclosed shopping malls as well. The DeBartolo Corporation became one of the most influential businesses in the shopping mall industry, owning almost one-tenth of all of the mall space in the United States.
The mall was owned by the Simon Corporation. It had been through two major remodelings, but the economy finally brought the end of the Palm Beach Mall. The mall officially closed on January 31, 2010, although J.C. Penney and a few other stores with outside entrances are still open. The mall was foreclosed on for payment of a $53.2 loan. At auction on March 4, 2010, Wells Fargo, the loan holder, retained the property for $1.75 million. The property has multiple owners, though, with J.C. Penney ownings its land and the former Dillard's space being owned by a separate owner. This makes the future of the mall space very difficult as all owners must agree to the eventuall use of the land.
In July, the city of West Palm Beach hinted that it might use its eminent domain rights to seize the Dillard's property. Whether the current owners can attract big-box retailers like Ikea or Pro Bass shops to the property remains an open question. Until there is more demand in the economy, it is likely that the property will remain vacant.
For those who grew up in the West Palm Beach area in the 1960's and 1970's, there was no where else to shop. Malls are increasingly becoming a thing of the past.

Original Stores

This is the COMPLETE list of the 87 original stores and 9 restaurants of the Palm Beach Mall:
Anchors:

JC Penney (The only store still open)
Jordan Marsh (became Dillard's)
Richard's (became Sears)
Woolworth
Food Fair (Pantry Pride)
Burdines (1976)

Specialty:

A-All Employment Agency
Albert's Shoes
Andrew Gellar Shoes
Baccus Florist
Baker's Shoes
Barefoot Mailman - Curios, gifts
Baron's Menswear
Beltone Hearing Aids
Bernard Wig Salon
Boy's Towne
Butler Shoes
Card Mart
Cricket Shop - Tropical Casuals
Docktor Pet Shop
Dorbarry Shop - Clothing
First Lady Beauty Salon
Florsheim Shoes
Franklin Optical
Goodyear Tire and Auto Repair
Hanover Shoes
Harlett Stroke
Harry's Toy Shop & Children's Furniture
Harris Music
Hollywood Travel
Home Federal Savings & Loan
Jacobs Jewelers
Jarman Shoes
Joan Bari - Women's accessories
Judi Lesli - Women's fashions
Kent Dry Cleaners & Laundry
Kinney Shoes - Shoes
Lane Bryant - Women's clothing
Lay's Barber Shop - Barber shop
Leeds Ties of Palm Beach - Mens accessories
Lerner's - Women's clothing
Lillie Rubin - High end fashions
Lory's Fashion Shop - Women's fashions
Mary Jane Shops - Women's shoes
Memory Lane - Cards/Gifts
Modernage - Furniture
Mister "G" Ladies Wear - Women's Fashions
Mr. Hairdresser - Beauty Salon
National Shirt Shops - Men's shirts
Nina - Women's shoes
Norman's - Woman's clothing
Palm Beach Camera Salon - Photography
Palm Beach Sports Center - Sporting Goods
Parklane Hosiery - Socks/Panty Hose
Radio Shack - Electronics
Regent Shop
Salon of Music - Pianos/organs
Sandra Post
Schwobilt Clothes - Men's clothing
Seven Seas Gift Shop - Gifts
Singer Sewing Center - Sewing notions
Southern Uniform Centre - Uniforms
Spec's Music - Records/Tapes
Spencer Gifts - Gifts
Stuart's Juvenile Shoes - Children's shoes
Surrey's Ltd. - Men's Clothing
Thayer McNeil - Shoes
Thom McAn - Shoes
Tobacco Village Shop
Tooley Myron Studios - Photography
Walden Book Stores - Books
Walgreen Drugs
Walgreen Liquors
Walsh Shoe Repair
Young Sophisticates
Zales Jewelers


Food/Restaurants:

Junior's - Deli style foods
Le Petit Cafe - Fast food, sandwiches, pastries
Orange Bowl - Hot dogs, pizza
Harvest House - Cafeteria style
Barracini's Candy/Ice Cream
Bresler's Ice Cream Shop
Butter-Kist Bake Shop
Fanny Farmer - Candy
Hickory Farms - Cheeses
Department Store Restaurants - Jordan Marsh, Woolworth's lunch counter

Harvest House was eatery in PB Mall
By Eliot Kleinberg
Palm Beach Post Staff Writer
Wednesday, March 29, 2006

Q: Back in the early to mid-'70s, I remember a restaurant in the Palm Beach Mall. It was a nice place that served brunch on Sundays and had a clown do magic for us kids. What was the name of that place?
- Rich W., Jupiter

A: This question brought some nostalgic smiles from some of our Baby Boomer staffers, not to mention Rachelle Crain, marketing director for the Palm Beach Mall. She remembers Harvest House, as the restaurant was called, and the clowns who did magic and made balloon animals for the kids. Crain grew up in West Palm Beach and recalls going to the place as a teen in the 1970s with her four siblings.
The restaurant chain had a contract to operate inside Woolworth's. The Woolworth's at the Palm Beach Mall stood where the Designer Shoe Warehouse, Musician's Superstore and Borders are now, and the Harvest House inside had a separate entrance into the mall, Crain said. She said the restaurant moved out around 1994. The Woolworth's shut down in 1997 when the chain closed all its 400 remaining five-and-dime stores.
Woolworth's later morphed into Foot Locker. We tried to get more historical information about Harvest House, but its press people didn't return several calls.


The beautiful fountain or "Wonderfall" at the Palm Beach Mall. The fountain was a series of strings that were suspended between the ceiling and base of the fountain. The water would stream down the strings creating a unique effect.

About Us
Please contact us if you have any additional information about the mall. We maintain websites on Palm Beach County History - visit our sister website at
www.africa-usa.com
.
Contact:
Click here